The SJT Leadership test provides an insight into the candidate's leadership styles and qualities. In the role of manager, the candidate is presented with a number of scenarios. For each scenario a number of possible reactions are shown and the candidate is to assess the effectiveness of each of the responses to this particular situation. The SJT Leadership test is based on the full range leadership model by Bass & Avolio (1990), and as such has a solid theoretical basis. In this model, three leadership styles are distinguished: transformational, transactional and 'laissez faire' leadership. Transformational leadership is divided into inspirational motivation, individual attention and intellectual stimulation. Transactional leadership can be subdivided into contingency management and management by exception.
Application
The SJT Leadership test is primarily developed for selection questions: it provides an insight into the candidate's management skills and the ability to make a good, informed choice in a selection process. However, the test can also be used in advisory situations if you want to gain more insight into both the leadership styles and qualities of the candidate. To this end, the report contains a number of tips and a reflection assignment, which can help in the development and improvement of leadership qualities.
Sample item SJT Leadership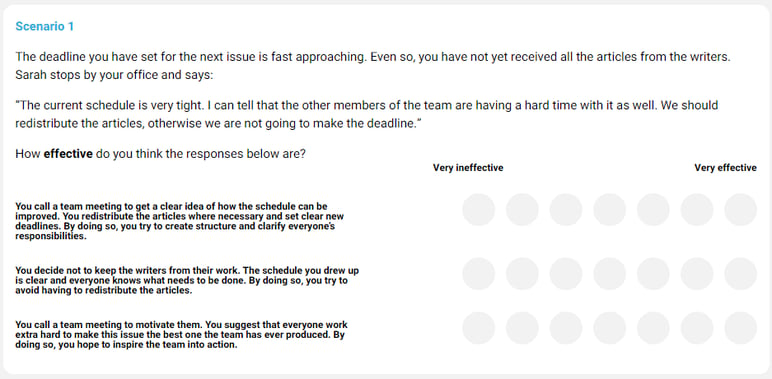 Report
The SJT Leadership report provides a broad picture of both a person's management preferences and qualities. First of all, the candidate's preferred leadership style becomes clear. If a person regularly assesses a certain style as being the most effective, it is assumed that he or she will also be inclined to show this style in practice. Secondly, the report gives an idea of the candidate's ability to assess the effectiveness of the various responses; to this end the candidate's responses are compared to the assessments provided by a group of experts. Finally, it becomes clear whether the candidate is able to recognise that some situations require one leadership style (e.g. transformational), while a different style (e.g. transactional) can be more effective in others.
Reliability and validity
Studies have shown that the SJT Leadership test is reliable and valid; these studies can be found in the manual (currently only available in Dutch, please contact us for more information). A study conducted among 189 managers, for example, has shown that the assumed scales from the theoretical model emerged in our questionnaire. It also showed that better scores on the SJT Leadership test were related to more years of leadership experience and having more subordinates. These studies show that the SJT Leadership is a well-structured test that can help to select the best leaders.