Cotan recently assessed the Work-related Personality Inventory (WPI) as once again one of the best personality tests in the field of Human Resources Management (HRM). Cotan is the Dutch Institute of Psychologists' committee for testing purposes and is known as one of the strictest of its kind in Europe. The WPI has been assessed as follows: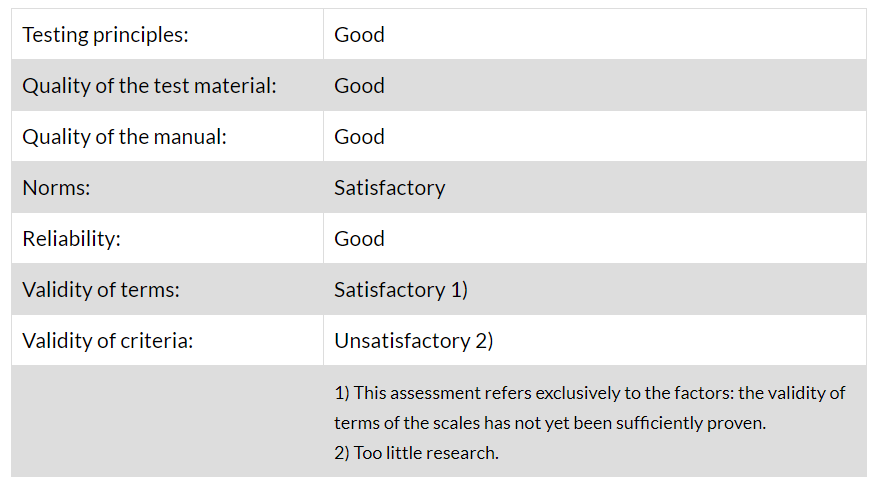 Best Test in the Netherlands
The WPI, together with one other test, is the best-assessed test in the Netherlands in the field of HRM. And because the Cotan criteria belong to the strictest in Europe, we can safely assume that the WPI is one of the best European tests. That is fitting encouragement to sustain our ambitions abroad.
Pride
Naturally, we are very proud of this achievement. Apart from the fact that many personality tests in the Netherlands have never been assessed, it is special that we have once again succeeded in developing a personality questionnaire that scores higher than many others in this field. Including much-used tests developed by renowned institutes.
Teamwork
This is obviously not the work of only one person. Over the years, many different psychologists have worked on the construction, research and documentation of this work-focused personality questionnaire. Permit me to mention a number of them:
Wendy Ruiterkamp, Mark Westerhuis, Martijn van der Woud, Heleanne Rusthoven, Ilse Beemsterboer, Bart Dekker and Merel Schrijver.
I would like to thank them for the excellent work they have conducted in recent years.
Interested?
Should you wish to try out the WPI as a professional user (psychologist, recruiter, etc), please contact:
+31 (0)88-4959 000 or send a message via www.ixly.org/contact-form.