Thinking Styles is a short, ipsative questionnaire that maps the preferred thinking styles of team members. The questionnaire is based on Eduard de Bono's thinking styles model. De Bono identifies six thinking styles, namely:
White: Virginal white thinking, in the form of facts, figures and information.

Yellow:Sunshine, clarity and optimism: positive assessment, constructive contribution, detecting chances, focus on why something 'will' work (also: opportunism).

Red: Emotions and gut feeling, assumptions and inspiration (intuition).

Green: Fertility: creativity, innovation, new insights, movement, provocation.

Black: Warning for risks and pitfalls, focus on why something will 'not' work (pessimism).

Blue: Distance and control: the conductor of thought, thinking about thought.
The term De Bono uses for this model is the Six Thinking Hats, registered as a brand name. The origins of this model are claimed by the School of Thinking, where De Bono once worked.
Example question Thinking Styles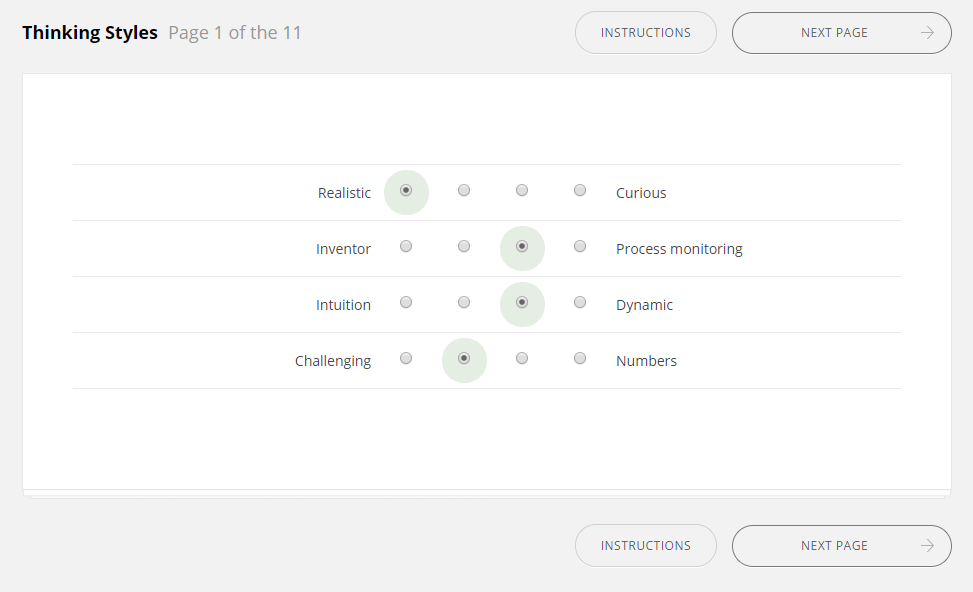 Application
The Thinking Styles questionnaire is especially suited for teambuilding exercises in order to enhance interpersonal communication and cooperation skills. Contribution to the decision-making process can be improved if you better understand how you think. There are plenty of entertaining teambuilding exercises to recognise and apply these thinking styles.
This questionnaire is also used in coaching, organisational development and as an addition in assessment procedures. During a coaching session, the questionnaire can generate awareness of the preferred thinking style and the effect of that style on the decision-making process. The model has also demonstrated its added value in creating a more effective decision-making process in organisational development processes.
Example of results

Example of one of the Thinking styles