The Personal Flexibility (PF) questionnaire maps the personal traits that are important when dealing with significant change, such as switching jobs or handling organisational developments. The questionnaire provides insight into the chance of success of change trajectories, such as finding a new job.
Application
The Personal Flexibility (PF) questionnaire is primarily used during the intake for counseling situations such as coaching, outplacement, reintegration, or psychotherapeutic interventions. The PF measures someone's personal flexibility, indicating the capacity of that person to handle significant change.
Personal Flexibility Example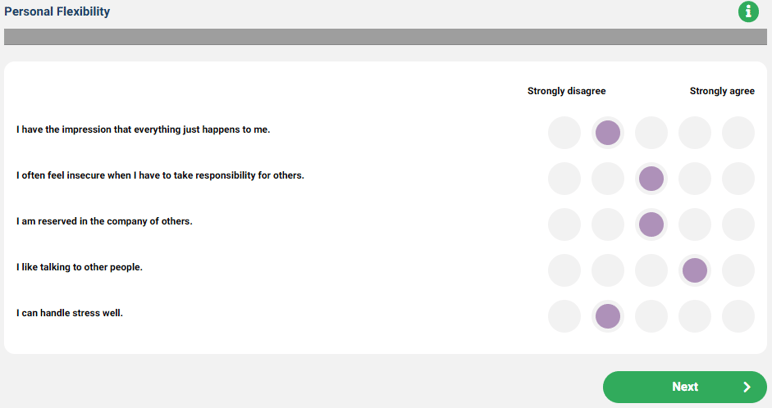 Development
The PF is a practical personality questionnaire that has emerged from longitudinal research on outplacement candidates. Which personality factors influence the success rate have been investigated in this study.
Six personality traits are of importance:
Adaptability to change
Capable of adapting to new circumstances and changes, and being able to experience change and variation as challenging.
Social initiative
The ease with which contact is made and maintained. This is an important factor in personal flexibility, because social support can be important when gathering information from others. Moreover, those who benefit from social support are better able to handle the stress that often accompanies change.
Energy level
The feeling of being capable of handling a massive workload. Some changes require work and effort to be adopted. Someone's energy level can therefore be of importance for personal flexibility.
Self-confidence
At issue here is whether people feel confident about their own capabilities and whether they believe they are able to bring most tasks to a satisfactory end.
Control over own situation
The feeling of being able to influence one's own life.
Emotional resilience
Being able to handle change, disappointment and setbacks, and not to allow oneself to be knocked sideways by them.
All abovementioned scales are combined into one Personal Flexibility score.
Example from report Personal Flexibility