The Interest Questionnaire H was developed to map interests in degree courses and related sectors. The items were constructed by asking students of various courses at the HBO/WO level what they found interesting about their degrees. This resulted in a large number of interest statements. After several analyses, a questionnaire was developed that identifies interest areas in the language of students. This questionnaire is primarily intended for study programme choice but can also be usefully employed for vocational choice.
An additional interest questionnaire in the Test-Toolkit is the Interest questionnaire for Tasks and Sectors (ITS). The ITS is especially useful for people with some work experience and is mostly used in career coaching situations.
Interest Questionnaire H scales
Humanities: Language and culture, Communication, History, Artistic, Musical, Theology and philosophy
Sciences: Architecture, Geology, Computer science, Science courses, Technology, Agricultural, Biological
Social studies – service industries/social management: Social, Animal health care, Health care, Education, Financial economic, Management and policy, Social political, Commercial, Law
Specific interest areas: Sports, Security, Tourism
Sample question Interest Questionnaire H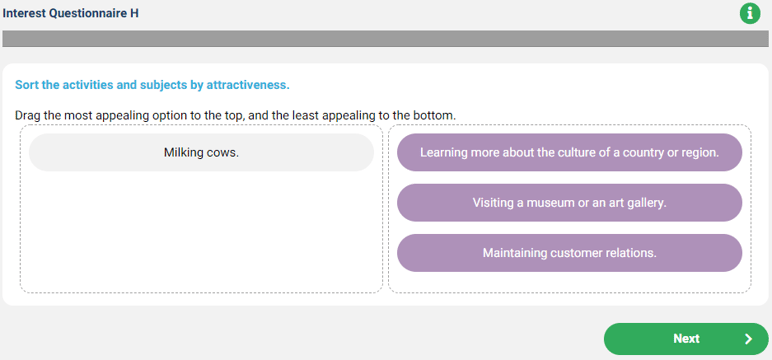 Example results of an Interest Questionnaire H report (to download the whole report, click on Quick Facts in the column on the right).