The Career Values (CV) inventory provides insight into someone's motivators. Which aspects of work are motivating? A match between career values and the characteristics of a job position determine motivation and engagement to a significant degree. Providing insights in demotivating aspects can also be valuable.
The underlying theories include Vroom's Motivation, Valency and Performance model, Herzberg's Two Factor Theory and Maslow's Hierarchy of Needs. The items are based on the realities of career consultancy.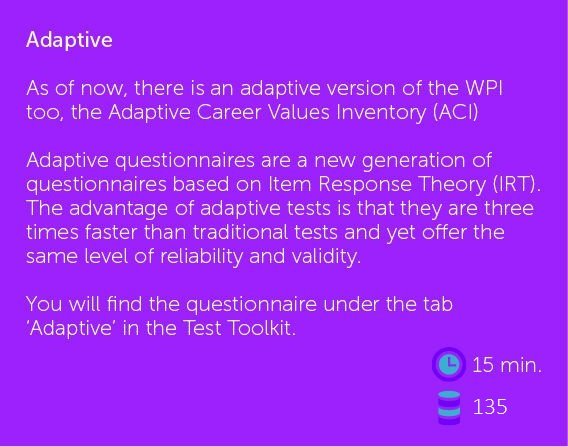 Application
This questionnaire offers a differentiated insight into motivators, making it especially suitable for career advice and study programme choice. But this questionnaire also has added value during a selection assessment. Motivation and engagement are important success factors. Aligning with organisational values is therefore important too.
Versions
Normative (CV-N) and ipsative (CV-I) versions of the questionnaire are available. The normative version is only suitable for advice situations. The ipsative version sets two statements against one another; this version can also be used in selection procedures.
If the candidate has a lower language proficiency level, you can use the Working Values inventory, a shorter motivator questionnaire at the B1 language proficiency level.
Example question Career Values Normative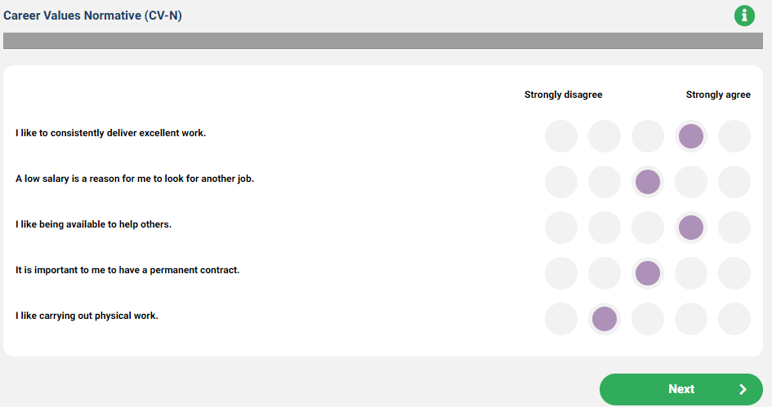 Example Question Career Values Ipsative